Products
Charge Controller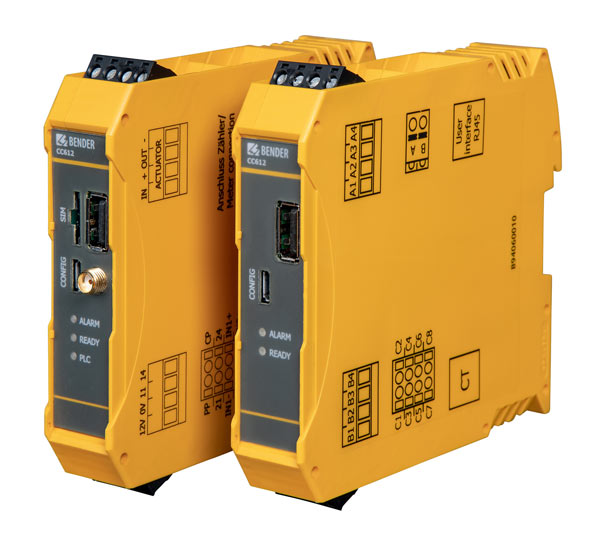 CC612 charge controller
Enables charging infrastructure to be set up in compliance with German calibration law with an EMH meter and transparency software
Integrated dynamic load management (DLM)
Function in compliance with German calibration law from software version 4.50
Integrated PLC communication (ISO 15118)
Smart-grid-capable through OCPP transmission and an integrated 4G modem
Integrated 6 mA DC fault current detection/monitoring (patented) enables the use of a type A RCD, no type B RCD required
Continuous further development and software updates
Connection to energy management systems through the standardised EEBUS protocol
Smart charge controller - Build your own charging station
As the heart of every intelligent charging station, the charge controller communicates with the vehicle and the connected backend, monitors the internal hardware of the charging system, the user interfaces as well as the charging socket and the charging cable.
The integrated PLC communication in accordance with ISO15118 for implementation of plug & charge, bi-directional communication with the vehicle as well as intelligent connection to energy management systems (EMS) are further innovative components of the charge controller.
A specially developed dynamic load management (eDLM software) integrated in the controller enables load management with up to 250 charging points within a local eDLM system, whereby the entire available energy is distributed in a highly dynamic and effective way using different profiles.
The charge controller is compatible with OCPP 1.5 and OCPP 1.6. Integration tests with different backend implementations of providers such as Vattenfall, Bosch, NTT and DRIIVZ have been successfully carried out, interoperability with common roaming platforms such as Plugsurfing and Hubject has also been ensured.
The charge controller supports 2.5G Edge and 4G UMTS mobile networks; a SIM card is required. Online service to identify errors is just as possible as local administration on site via USB interfaces, whereby updates and configuration settings can also be imported and duplicated via a service USB stick.
The technical basis for billing options in compliance with German calibration law is created by combining the CC612 charge controller with an EMH meter and transparency software.
The innovative technology results in maximum availability and safety for both the charging system and the vehicle to be charged. Since the controller does not only react to critical DC fault currents but also to small residual currents, which indicate deterioration at an early stage, it reports and deliberately terminates the charging process before the RCD is tripped.
User interaction is facilitated by RFID modules available as accessories, which include an RFID card reader and LEDs. In offline operation, the charge controller can either allow charging without authorisation or it can authorise users based on RFID and a local "white list".
Further information
The software for controlling all processes of the charge controller can be updated. This makes the CC612 future-proof. Updates (typically quarterly) can be easily installed via USB, Ethernet or over-the-air (OTA). If a vulnerability is detected in the software, it can be reported here.
Features
Applications
Accessories
Ordering information
Downloads
Charge controller acc. to IEC 61851-22 (mode 3)
It can be configured as either a Master or Slave
The charge controller can be integrated into a single or three-phase system up to 80 A
Future-proof, encoded and standardised networking with EMS through the EEBUS communication protocol
Smart Grid enabled using standard OCPP functionality
OCPP 1.5 and OCPP 1.6 compliant with JSON, SOAP and Binary implementation
Supports 4G (LTE), 3G (UMTS) und 2G (GSM) mobile networks with an integrated 4G modem in all data gateways with 4G modem
Two USB interfaces:
– CONFIG for local configuration
– Other is used an extension port for peripheral USB devices (Ethernet/WiFi home applications)
– Master/slave hardware configuartion
Control Pilot and Proximity Pilot signal management
Universal charge plug control (support for different vendors of sockets)
Configurable support for one additional household socket
Can connect to eHZ or Modbus meters and to meters with an S0 interface
User interface board for customer-specific applications
Configurable 3-channel input/output extension interface for additional functionality
Only an external RCD type A is required
Internal temperature sensors
A Peer Group Mechanism or Dynamic Load Management where a set current is shared between a group of charge controllers
Optional integrated ISO/IEC 15118 power line communication (PLC) for plug & charge and load management systems
Local and remote configuration
electric vehicle (EV) charging stations, wall boxes or street light charging points
Optional accessories for CC612 charge controller
| | |
| --- | --- |
| RFID105-L1 with RJ45 cable (length 500 mm) | B94060105 |
| RFID114 with RJ45 cable (length 500 mm) | B94060114 |
| RFID117-L1 with RJ45 cable (length 500 mm) | B94060117 |
| Measuring current transformer* W15BS (cable length 1500 mm) | B98080065 |
| Measuring current transformer* W15BS-02 (cable length 180 mm) | B98080067 |
| Measuring current transformer* W15BS-03 (cable length 320 mm) | B98080068 |
| DPM2x16FP (display module) | B94060120 |
* The measuring current transformer has an internal diameter of 15 mm.
Variants of CC612 charge controller
| | | | | | | | |
| --- | --- | --- | --- | --- | --- | --- | --- |
| CC612-1M4PR | 4G | eHZ-, S0 interface | ✓ | ✓ | ✓ | Ready, Alarm, PLC | B94060011 |
| CC612-2M4PR | 4G | Modbus, S0 interface | ✓ | ✓ | ✓ | Ready, Alarm, PLC | B94060013 |
| CC612-2M4R | 4G | Modbus, S0 interface | ✓ | -- | ✓ | Ready, Alarm | B94060015 |
| CC612-1S0PR | -- | eHZ-, S0 interface | ✓ | ✓ | ✓ | Ready, Alarm, PLC | B94060005 |
| CC612-2S0PR | -- | Modbus, S0 interface | ✓ | ✓ | ✓ | Ready, Alarm, PLC | B94060007 |
| CC612-2S0R | -- | Modbus, S0 interface | ✓ | -- | ✓ | Ready, Alarm | B94060010 |
*The charge controller only works in combination with the measuring current transformer W15BS, which must be ordered separately.
** Optional and enabled by a software update
Downloads for CC612 charge controller
| | Category | Product | Language | Size | Download |
| --- | --- | --- | --- | --- | --- |