Products
Communication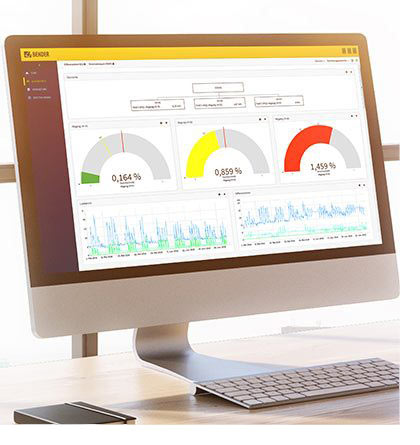 POWERSCOUT®
Simple setup
Long-term analysis
Visualisations
Automated reports
Across locations
Central testing and monitoring of the electrical installation and equipment (IEC 60364-6)
No local software installation required
Moisture, deterioration, dirt, mechanical damage or faults caused by the impact of current, voltage and temperature impair every electrical installation.
The web-based software solution POWERSCOUT® helps you detect malfunctions at an early stage and eliminate the causes in an economically reasonable way. This guarantees high installation and operational safety and reduces costs.
Manual data acquisition is time consuming, error prone and only provides random sampling results. POWERSCOUT® gives you an insight into the entire data of your installation at any time, since all measured values are automatically and continuously saved. POWERSCOUT® combines the data of your measuring and monitoring equipment and generates easily comprehensible visualisations of all important measured values.
Features
Applications
Ordering information
Downloads
Transmission of measured values every minute
Resolution of the data as a function of the velocity of the bus system
16 visible dashboards
256 public dashboards
Commissioning wizards
– Residual current
– Stray currents
– Neutral conductor
– Central earthing point
Dashboard management
Tree views management
Report management
Automated sending of reports
Integration via CP700, CP9xx(-I), COM465IP and COM465DP
Integration of third-party devices
A web-based application for all types of devices
Languages
– English
– German
User management
Supported browsers
– Chrome
– Firefox
– Internet Explorer
Commissioning wizards
The wizards support the user in generating dashboards and reports. With just a few steps, meaningful dashboards related to a specific subject of electrical safety can be generated.
Residual current
The commissioning wizard supports you in creating a dashboard that allows evaluating the level of the residual current at a glance. The ratio of residual current and load current is calculated.
Stray currents
The wizard for stray currents indicates the system parts where excessive stray currents exist.
Central earthing point
The central earthing point wizard generates a meaningful visualisation for the user by querying the current at the CEP and the corresponding phase current.
Neutral conductor
The excessive load on the neutral conductor challenges many system operators. The commissioning wizard evaluates the neutral currents and indicates whether they are too high.
Variants of POWERSCOUT®
Hosted
| | | | |
| --- | --- | --- | --- |
| POWERSCOUT 2 | up to 2 | 10 | B95061500 |
| POWERSCOUT 5 | up to 5 | 20 | B95061501 |
| POWERSCOUT 10 | up to 10 | 40 | B95061502 |
| POWERSCOUT Project | > 10 | > 40 | B95061503 |
If you choose the Hosted model, we will operate POWERSCOUT® for you in a German data centre. We take care of updates and maintenance for you.

Downloads for POWERSCOUT®
| | Category | Product | Language | Size | Download |
| --- | --- | --- | --- | --- | --- |