Products
Insulation monitoring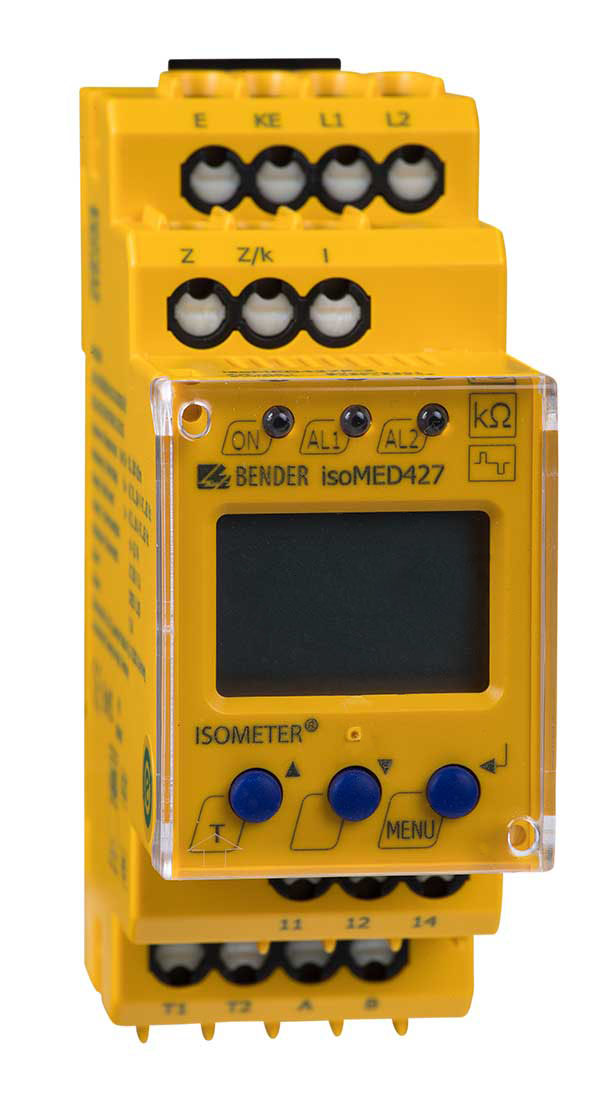 ISOMETER® isoMED427P
Insulation monitoring device for medical IT systems
Load and temperature monitoring for IT system transformers
According to IEC 60364-7-710, IEC 61557-8 and 61557-9
Locating current injector for insulation fault location systems
Can be extended to operate as an insulation fault location system
ISOMETER®s of the isoMED427x-(PT) series monitor the insulation resistance of a medical IT system with AC 70…264 V. In addition, the load current and the temperature of the IT system transformer are monitored. Alarms and measured values are provided to other bus devices via the BMS interface. For display and signalling purposes, the use of special alarm indicator and test combinations is recommended.
After detection of an insulation fault, the internal locating current injector of the isoMED427P-(xx) models enables insulation fault location. The use of special devices of the EDS series is recommended to locate the insulation fault.
Devices of the isoMED427x-(PT) series do not require an additional supply voltage. The maximum permissible system leakage capacitance is 5 μF.
In order to meet the requirements of applicable standards, customised parameter settings must be made on the equipment in order to adapt it to local equipment and operating conditions.
Features
Applications
Accessories
Ordering information
Downloads
Insulation monitoring for medical IT systems
Adjustable response value for insulation monitoring
Locating current injector for equipment for insulation fault location
Load and temperature monitoring for IT system transformers
Adjustable load current response value
Temperature monitoring with PTC thermistor or bimetal switch
Self monitoring with automatic alarm
PE connection monitoring
Internal/external test button
LEDs: Power On, Alarm 1, Alarm 2
Configurable alarm relay: N/O or N/C operation selectable
Compact two-module enclosure (36 mm)
BMS interface
Medical IT system in accordance with IEC 60364-7-710, IEC 61557-8, IEC 61557-9 and DIN VDE 0100-710
Optional accessories for ISOMETER® isoMED427P
| | |
| --- | --- |
| STW2 measuring current transformer | B942709 |
| ES0107/temperature sensor (PTC) | B924186 |
| XM420 Mounting frame | B990994 |
| Mounting clip for screw fixing (one clip per device) | B98060008 |
Variants of ISOMETER® isoMED427P
Type
Supply voltage US
Art. No.**
isoMED427-2
AC 70…264 V, 47…63 Hz
B72075306
B92075306
isoMED427P-2*
AC 70…264 V, 47…63 Hz
B72075301
B92075301
isoMED427P-PT
AC 70…264 V, 47…63 Hz
B72075307
B92075307
* Only this device has a Lloyds Register approval
**(B7… = push-wire terminal / B9… = screw-type terminal)
Downloads for ISOMETER® isoMED427P
| | Category | Product | Language | Size | Download |
| --- | --- | --- | --- | --- | --- |