Products
Operator control panels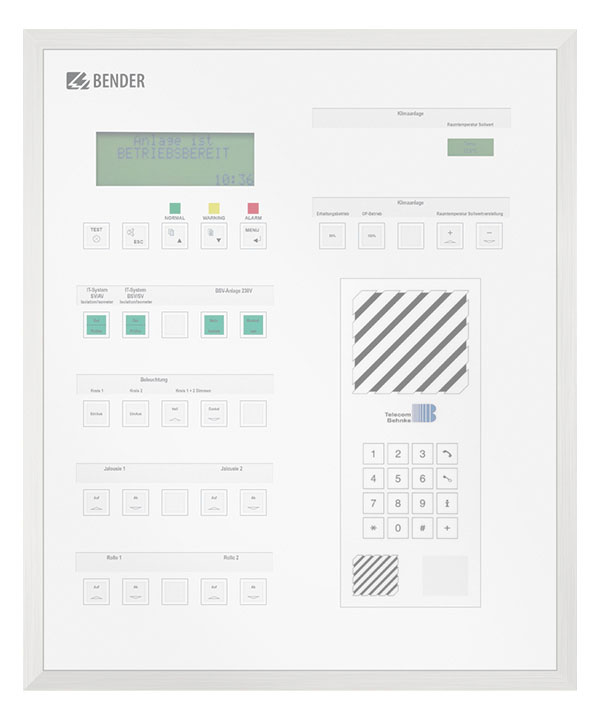 TM800
In terms of the human/machine interface, alarm indicator and operator panels play a crucial role. Their task is to take system information and transform it into clear instructions, particularly in the event of critical operating situations. The flexible TM800 panels provide solutions that meet the requirements of modern medical facilities as well as industrial and functional buildings. They are used for
indication and visualization of operating status and alarm messages;
central operation and parameter setting of BMS bus devices;
visual and audible indication of alarm messages;
displaying measured values and setting of response values for monitoring purposes
from Bender monitoring systems with BMS-bus capability, such as MEDICS, RCMS or EDS.
Furthermore, they are used for indication, control and operation of
operating theatre tables
medical gas supply equipment
air conditioning and ventilation systems
interior lighting
communication systems
and third-party systems. The integration of third-party systems in one single panel allows the creation of a kind of "technical control centre" in the appropriate room.
Features
Accessories
Ordering information
Downloads
Display, control and operation of Bender monitoring systems and third-party systems
Backlit clear LC text display (4 x 20 characters, 8 mm)
Display of additional text supplies medical and technical personnel with specific information
A set of LEDs, red, yellow and green, allowing messages to be indicated in an order of priority
80 predefined standard texts in 20 languages
1000 freely programmable message texts
Easy parameter setting with PC (USB interface) or menu
Memory with real-time clock to store 1000 alarm messages with date and time stamp
Variable illuminated pushbutton modules allow freely configurable function assignment
Closed foil surface allowing, easy integration of third-party systems, such as operating theatre table controls, medical gases, intercom systems, etc.
Control of third-party systems by flexible I/O modules with galvanic separation
Alarm LED at each input/output for fast diagnosis
Functions can easily be expanded by adding I/O modules
Clearly defined project structure due to an external and internal bus
Non-reflecting, multicoloured foil.
Optionally available with an antibacterial foil surface.
Optional accessories for TM800
| | | |
| --- | --- | --- |
| TMK-Set V4.xx | software | as Internet download |
| TMK-History V3.xx | software | as Internet download |
| USB driver software for MK2430, MK800 and TM800 | software | as Internet download |
Downloads for TM800
| | Category | Product | Language | Size | Download |
| --- | --- | --- | --- | --- | --- |