Products
Measuring and monitoring relays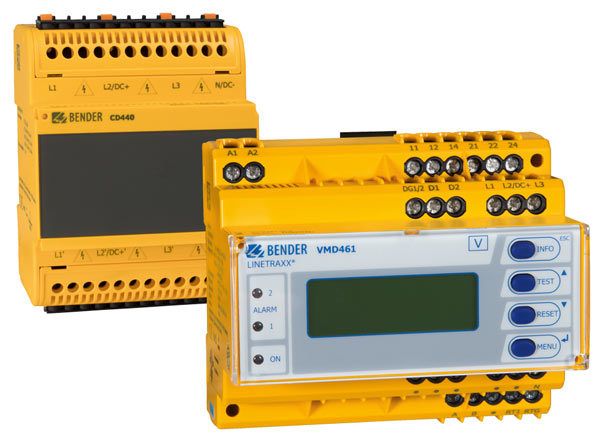 LINETRAXX® VMD461 with CD440
Voltage monitoring up to 1200 V
All functions are represented in ANSI codes
3-stage voltage and frequency monitoring with a corresponding response delay
Can be used optionally for a wide variety of system configurations such as AC, 3AC, 3NAC and DC
The multifunctional voltage monitoring relay VMD461 monitors frequencies, undervoltages and overvoltages in DC, AC and 3(N)AC systems. The phase voltages and/or line-to-line voltages are measured as r.m.s. value and are continuously shown on the device display.
The measured value required to trigger the alarm relay is stored. The VMD461 features additional measuring functions for:
ROCOF df/dt
Vector shift monitoring
Unbalance monitoring
Phase sequence monitoring
The corresponding ANSI codes for all available measuring functions are provided. Configurable delay times allow considering special installation-specific properties (e.g. device-specific start-up procedures). The VMD461 requires an external supply voltage.
The optional use of a CD440 coupling device extends the voltage range that can be monitored to DC/3AC 1200 V or 1AC/3NAC 690 V.
Features
Applications
Accessories
Ordering information
Downloads
When combined with a CD440 coupling device, DC systems up to 1200 V, 1AC systems up to 690 V, 3AC systems up to 1200 V and 3NAC systems up to 690 V can be monitored
All functions are represented in ANSI codes
Monitoring of DC, 1AC, 3(N)AC systems DIN EN 60255-1:2010-9
Single-fault safety
Unbalance, phase failure and phase sequence monitoring
Monitoring of the connected switches and/or disconnectors (configurable: NC/NO/off)
Islanding detection df/dt (ROCOF)
Vector shift function
RS-485 interface (data exchange/parameter setting/software update)
Test function to determine the switch-off time
Test button for the trigger circuit
The last 300 network faults can be recalled with time stamp/real-time clock
Continuous monitoring of the phase voltage and line-to-line voltage
Special switch-on conditions after an infringement of a response value
Language selection (German, English, French)
Backlit graphic LC display
Password protection for device setting
Remote shutdown via ripple control signal receiver
Sealable enclosure
Monitoring of voltage-sensitive machines and installations
Switching installations on and off at a certain voltage level
Protection of three-phase motors against phase failure and phase open-circuit
Vector shift detection for protection of electrical machines
Islanding detection ROCOF (rate of change of frequency)
Transformer protection by recognising asymmetrical load
Optional accessories for LINETRAXX® VMD461 with CD440
Coupling device
| | |
| --- | --- |
| CD440 | B73010046 |
Condition Monitor
COM465IP
with an integrated gateway: Bender system/Ethernet
AC/DC 24…240 V, DC, 50…60 Hz
B95061065
COM465IP
function module A
Individual texts for devices/channels, device failure monitoring, e-mail in the event of an alarm
B75061011
COM465IP
function module B
Modbus TCP server for max. 98 * 139 BMS nodes as well as BCOM devices and
universal measuring devices, SNMP server
B75061012
COM465IP
function module C
Parameter setting for BMS devices as well as BCOM and universal measuring devices
B75061013
COM465IP
function module D
Visualisation of Bender systems, system visualisation
B75061014
COM465IP
function module E
Virtual devices
B75061015
COM465IP
function module F
Integrating third-party devices
B75061016
CP700
for the connection of Bender BMS devices and universal measuring devices to TCP/IP systemsn
B95061030
RS-485 repeater
| | | |
| --- | --- | --- |
| DI-1PSM | AC/DC 24 V ± 20 % | B95012044 |
Variants of LINETRAXX® VMD461 with CD440
| | | |
| --- | --- | --- |
| VMD461-D-2 | AC/DC 100…240 V | B93010047 |
Downloads for LINETRAXX® VMD461 with CD440
| | Category | Product | Language | Size | Download |
| --- | --- | --- | --- | --- | --- |