Products
Charge Controller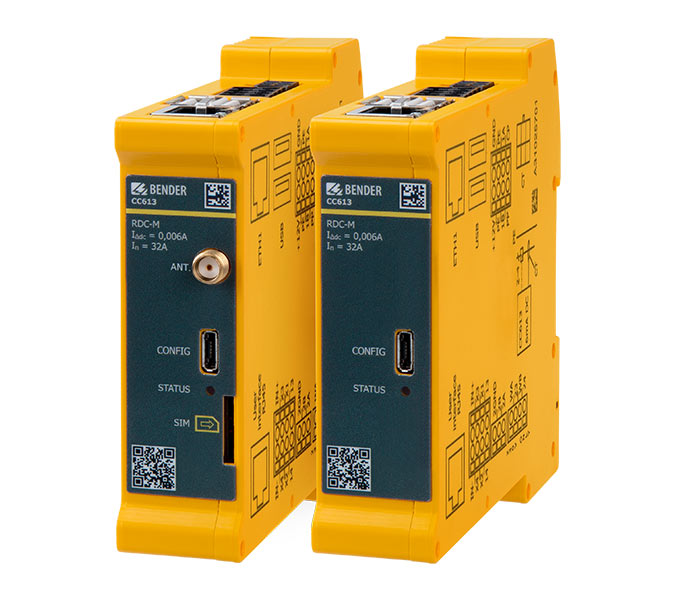 CC613 charge controller
Integrated dynamic load management (DLM)
Integrated Powerline Communication (PLC) in accordance with ISO 15118
Integrated emergency opener
Smart-Grid-capable through OCPP 1.5 and 1.6 (JSON and SOAP), as well as the future-proof EEBUS protocol
Integrated 6 mA DC fault current detection/monitoring (patented) enables the use of an RCD type A, no RCD type B required
Ethernet interface and integrated 4G modem
The next generation of smart charge controllers – VDE certified
The CC613 is the next-generation intelligent charge controller. Just like its predecessor CC612, the CC613 is the brain of an intelligent charging station: It communicates with the vehicle and the backend, monitors the internal hardware of the charging system, the user interfaces as well as the connection between the charging station and the vehicle.
The new CC613 charge controller generation further extends the range of functions of Bender charge controllers. A modified enclosure design integrates an Ethernet interface, which now makes the use of a USB Ethernet adapter no longer necessary. Despite the modified shape of the enclosure, the dimensions of the CC613 are the same as those of the CC612, making it easy to fit into existing charging stations.
The CC613 also features Powerline Communication (PLC) according to ISO 15118 for the implementation of plug & charge as well as DC fault current detection with an externally connected current transformer. In addition, free software updates will be available to extend the functions.
The charge controller features a further developed integrated dynamic load management (DLM), which can also be controlled by a higher-level system. This allows larger charging infrastructures to be managed either locally via the controller or by an existing building management system.
Additional monitoring – increased electrical safety
The CC613 now also has an integrated emergency opener so that, in the event of a power failure of the charging station, the plug can be removed from the vehicle or charging station without having to integrate an additional component in the charging station. This saves space and thus allows the CC613 to be installed in small and compact wallboxes.
To increase protection against electric shock, the CC613 provides PE monitoring, in which the connectivity of the PE connection is regularly monitored. Furthermore, the CC613 offers an integrated weld check detection, which outputs an error message in case of a "welded" contactor or load switch.
The software for controlling all processes of the charge controller can be updated. This makes the CC613 future-proof. Updates (typically quarterly) can be easily installed via USB, Ethernet or over-the-air (OTA). If a vulnerability is detected in the software, it can be reported here.
Features
Applications
Accessories
Ordering information
Downloads
Charge controller in accordance with IEC 61851-1 (mode 3 charging)
Master and slave operation configurable
Future proof, encoded and standardised networking with EMS through the EEBUS communication protocol
Setting up charging stations with two charging points: 1 charge controller as data gateway with 4G modem and 1 charge controller as slave without 4G modem
Dynamic load management to optimally distribute the available power among all charging points and signal the maximum power to the vehicle
Patented residual direct current monitoring module (external RCD type A required), different cable lengths can be selected (Patents: EP 2 571 128 / US 9,397,494 / ZL 201210157968.6 / CN 103001175, EP 2 813 856)
Integrated emergency opener for motor control (locking/unlocking) and monitoring of the 12 V supply voltage
OCPP 1.5 and OCPP 1.6 compliant with JSON and SOAP
Supported mobile networks: 4G (LTE), 3G (UMTS) and 2G (GSM) with an integrated 4G modem
3 USB interfaces:
- 1 CONFIG interface for local configuration and installation of software updates
- 2 USB host interfaces
Control Pilot and Proximity Pilot communication
Configurable support for additional SCHUKO socket-outlets
Meter interface: Modbus TCP and RTU
User interface modules for customer-specific applications (e.g. RFID, LED, antenna)
An additional digital input and an additional digital output
Internal temperature sensors to reduce the charging current regardless of the ambient temperature
ISO/IEC-15118 Powerline Communication (PLC) for plug & charge and load management systems
Electric vehicle charging stations, wallboxes or street light charging points
Optional accessories for CC613 charge controller
| | |
| --- | --- |
| RFID105-L1 with RJ45 cable (length 500 mm) | B94060105 |
| RFID114 with RJ45 cable (length 500 mm) | B94060114 |
| RFID117-L1 with RJ45 cable (length 500 mm) | B94060117 |
| Measuring Current transformer* CTBC17 (PCB variant) | B98080070 |
| Connection cable CTBC17-Cable1470 incl. clip housing (cable length 1470 mm) | B98080542 |
| Connection cable CTBC17-Cable325 incl. clip housing (cable length 325 mm) | B98080541 |
| Connection cable CTBC17-Cable180 incl. clip housing (cable length 180 mm) | B98080540 |
| DPM2x16FP (display module) | B94060120 |
| Plug kit CC613 (to be ordered separatly)** | B94060129 |
| Plug kit CC613 bulk pack ELM4PR-M, ELPR-M (50x) | B94060128 |
| Plug kit CC613 bulk pack ELM4PR, ELPR (50x) | B94060126 |
* The measuring current transformer has an internal diameter of 17 mm.
** Not included in the scope of delivery of the CC613.
Variants of CC613 charge controller
| | | | | | | | | | |
| --- | --- | --- | --- | --- | --- | --- | --- | --- | --- |
| CC613-ELM4PR | 4G | 1.5/1.6 | Modbus, Ethernet | ✓ | -- | STATUS | ✓ | ✓ | B94060026 |
| CC613-ELPR | -- | 1.5/1.6 | Modbus, Ethernet | ✓ | -- | STATUS | ✓ | ✓ | B94060027 |
| CC613-ELM4PR-M | 4G | 1.5/1.6 | Modbus, Ethernet | ✓ | ✓ | STATUS | ✓ | ✓ | B94060020 |
| CC613-ELPR-M | -- | 1.5/1.6 | Modbus, Ethernet | ✓ | ✓ | STATUS | ✓ | ✓ | B94060021 |
* The charge controller only works in combination with the measuring current transformer, which must be ordered separately.
** Powerline Communication acc. ISO/IEC15118
Downloads for CC613 charge controller
| | Category | Product | Language | Size | Download |
| --- | --- | --- | --- | --- | --- |