Products
Communication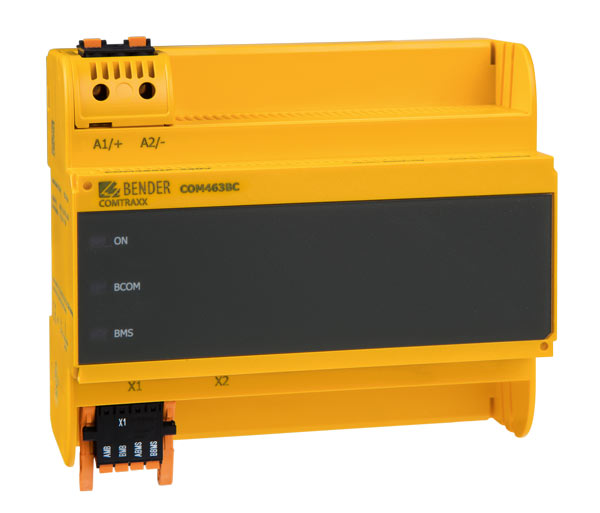 COMTRAXX® COM463BC
Information exchange between BCOM and external BMS systems
Configuration of the information to be transferred from one system to the other
Several external BMS systems can be displayed together with BCOM systems in one overview
The COMTRAXX® COM463BC gateway is exclusively responsible for the data exchange between BCOM and BMS external systems. Data from external BMS systems automatically appear in the BCOM system and can be used there. It is also possible to distribute the data from the BCOM system to the BMS external systems, but this must then be configured individually.
Existing interfaces:
RS-485: BMS external
Ethernet: BCOM
Features
Applications
Ordering information
Downloads
Gateway with web interface
Data exchange between devices at the following interfaces:
– External BMS bus (max. 99 ∗ 150 devices)
– BCOM (max. 255 devices)
Remote display of present measured values and operation/alarm messages
Ethernet interface with 10/100 Mbit/s for remote access via LAN, WAN or the Internet
Assignment of individual texts for devices, channels (measuring points) and alarms
Device failure monitoring
E-mail notifications to various users in the event of alarms and system errors
100 virtual devices with 16 channels each can be created. These are used to transfer information from a BCOM system to an external BMS.
Information exchange between BCOM and external BMS systems
Configuration of the information to be transferred from one system to the other
Several external BMS systems can be displayed together with BCOM systems in one overview
Selective notification to different users in case of alarms
Remote diagnosis, remote maintenance
Variants of COMTRAXX® COM463BC
Type
Supply voltage/
frequency range Us
Power consumption
Application
Art. No.
COM463BC-230V
AC/DC 24…240 V, 50…60 Hz
≤ 9.6 VA/≤ 4 W
Gateway for the connection of systems
with BCOM and external BMS
B95061051
Downloads for COMTRAXX® COM463BC
| | Category | Product | Language | Size | Download |
| --- | --- | --- | --- | --- | --- |