Products
Current transformers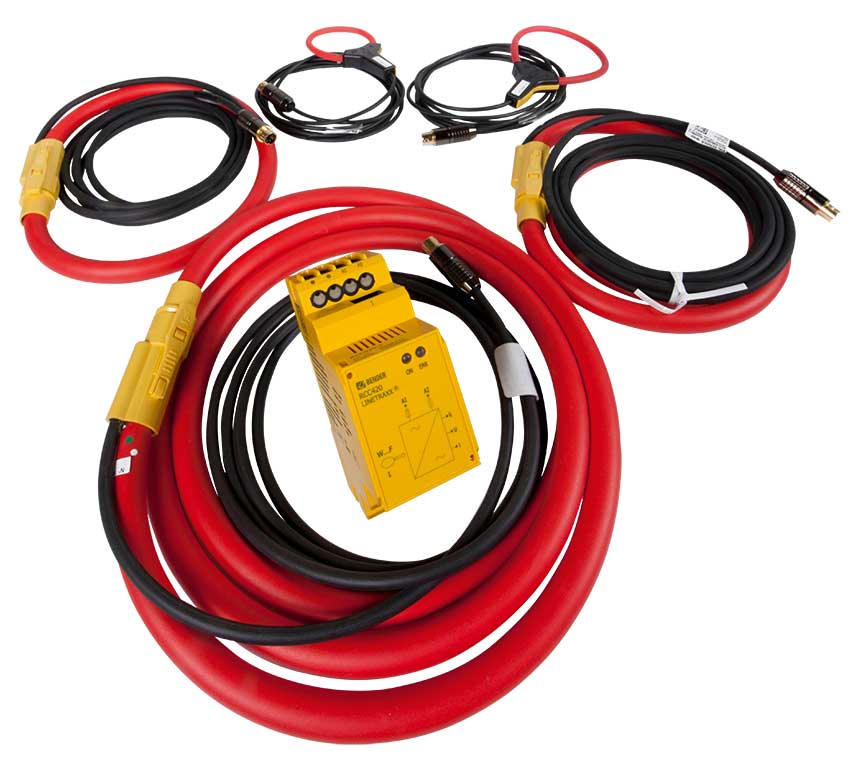 WF… series
Flexible WF… series measuring current transformers are highly sensitive measuring current transformers, which measure AC currents in conjunction with a RCMS460/490 series residual current monitoring system and convert them into an evaluable measuring signal.
They consist of one flexible W…F measuring current transformer and one RCC420 signal converter.
Connection to the respective residual current monitor is via a two-wire cable.


Features
Applications
Accessories
Ordering information
Downloads
Flexible measuring current transformer in different lengths
Space-saving design, quick installation
Easy retrofitting into existing installations
Can be installed without the need to disconnect the conductors
Connection monitoring WF… measuring current transformers
For RCMS460/490 series residual current monitoring systems
For RCM420 series residual current monitors
Analogue output (U, I) for external measuring devices
RCC420 with push-wire terminals (two terminals per connection)
Residual, fault and nominal current monitoring of loads and systems which cannot be switched off
EMC monitoring of TN-S systems for "stray currents" and additional N-PE connections in the central earthing point (CEP)
Monitoring of PE and equipotential bonding conductors to ensure they are free of current
Optional accessories for WF… series
| | |
| --- | --- |
| Mounting clip for XM420 enclosure (RCC420) (one unit required per device) | B98060008 |
Variants of WF… series
| | | | |
| --- | --- | --- | --- |
| WF170-1 | 170 mm | DC 9.6…94 V/AC 16…72 V, 42…460 Hz | B78080201 |
| WF170-2 | 170 mm | DC 70…300 V/AC 70…300 V, 42…460 Hz | B78080202 |
| WF250-1 | 250 mm | DC 9.6…94 V/AC 16…72 V, 42…460 Hz | B78080203 |
| WF250-2 | 250 mm | DC 70…300 V/AC 70…300 V, 42…460 Hz | B78080204 |
| WF500-1 | 500 mm | DC 9.6…94 V/AC 16…72 V, 42…460 Hz | B78080205 |
| WF500-2 | 500 mm | DC 70…300 V/AC 70…300 V, 42…460 Hz | B78080206 |
| WF800-1 | 800 mm | DC 9.6…94 V/AC 16…72 V, 42…460 Hz | B78080207 |
| WF800-2 | 800 mm | DC 70…300 V/AC 70…300 V, 42…460 Hz | B78080208 |
| WF1200-1 | 1200 mm | DC 9.6…94 V/AC 16…72 V, 42…460 Hz | B78080209 |
| WF1200-2 | 1200 mm | DC 70…300 V/AC 70…300 V, 42…460 Hz | B78080210 |
| WF1800-1 | 1800 mm | DC 9.6…94 V/AC 16…72 V, 42…460 Hz | B78080221 |
| WF1800-2 | 1800 mm | DC 70…300 V/AC 70…300 V, 42…460 Hz | B78080222 |
*Absolute value
Downloads for WF… series
| | Category | Product | Language | Size | Download |
| --- | --- | --- | --- | --- | --- |