Products
Insulation monitoring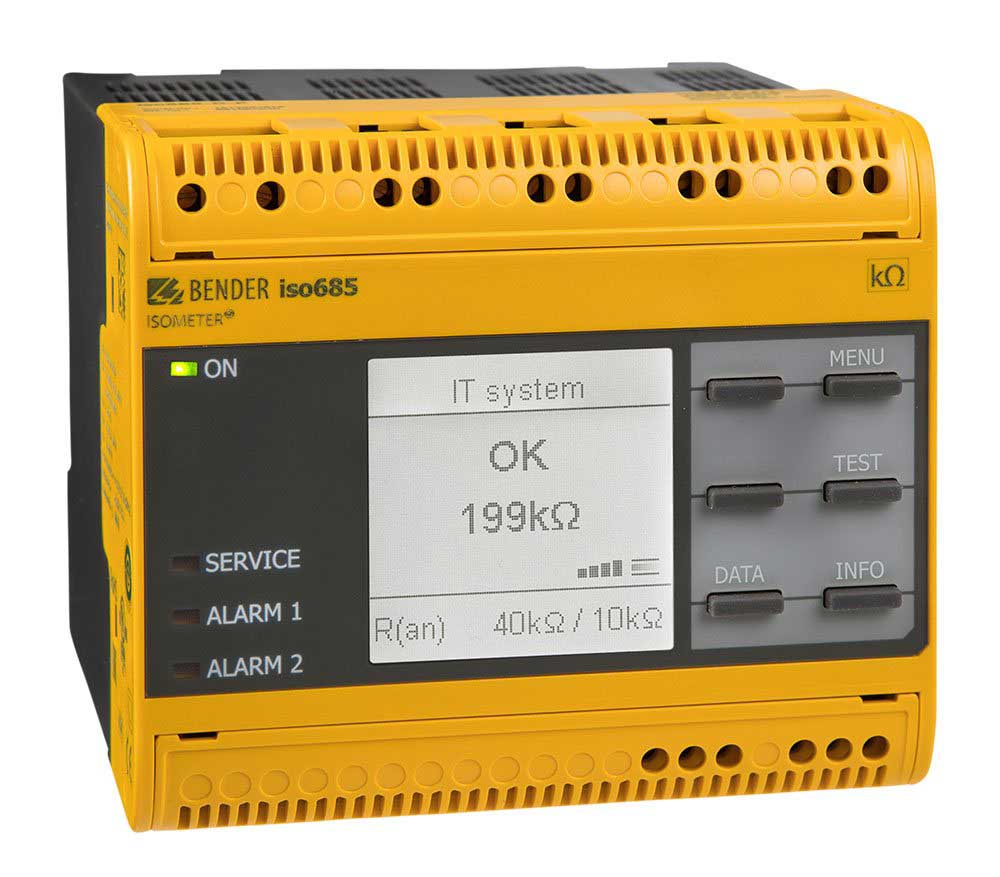 ISOMETER® iso685-…-B
Predefined measurement profiles
Reliable measurement of insulation resistance, voltage, capacitance and frequency
Integrated web server
Modbus TCP
History memory
The ISOMETER® is an insulation monitoring devices in accordance with IEC 61557-8 for IT systems. The devices are universally applicable in AC, 3(N)AC, AC/DC and DC systems. AC systems may include extensive DC-supplied loads (such as rectifiers, inverters, variable-speed drives).

Device variants
iso685-D-B: This device variant ISOMETER® iso685-D-B features a high-resolution graphic LC display and operating controls for direct operation of the device functions. It cannot be combined with an FP200.
iso685-S-B: This device variant ISOMETER® iso685-S-B features neither a display nor operating controls. It can only be used in combination with the FP200 and it is operated via this front panel.
Option "W": The ISOMETER®s with and without integrated display are available with option "W" for extreme climatic and mechanical conditions (ISOMETER® iso685W-D-B and iso685W-S-B).
Features
Applications
Accessories
Ordering information
Downloads
ISOMETER® for IT AC systems with galvanically connected rectifiers or inverters and for IT DC systems (IT = unearthed systems)
Automatic adaptation to the existing system leakage capacitance
Combination of AMPPlus and other profilespecific measurement methods
Two separately adjustable response value ranges of 1 kΩ…10 MΩ for alarm 1 and alarm 2
High-resolution graphic LC display for excellent readability and recording of the device status
Connection monitoring (monitoring of the measuring lines)
Automatic device self test
Graphical representation of the insulation resistance over time (isoGraph)
History memory with real-time clock (buffer for three days) for storing 1023 alarm messages with date and time
Current or voltage output 0(4)…20 mA, 0…400 μA, 0…10 V, 2…10 V (galvanically separated), which is analogous to the measured insulation value of the system
Freely programmable digital inputs and outputs
Remote setting via the Internet or Intranet (Webserver/Option: COMTRAXX® Gateway).
Worldwide remote diagnosis via the Internet (made available by Bender Service only)
RS-485/BS (Bender sensor bus) for communication with other Bender devices
ISOnet: Internal separation of the ISOMETER® from the IT system to be monitored (e.g. if several IT systems are interconnected)
BCOM, Modbus TCP and web server
AC, DC or AC/DC main circuits
AC/DC main circuits with directly connected DC components, such as rectifiers, converters, variable-speed drives
UPS systems, battery systems
Heaters with phase control
Systems including switch-mode power supplies
coupled IT systems with high leakage capacitances
Mandatory accessories for ISOMETER® iso685-…-B
| | |
| --- | --- |
| A set of screw terminals* | B91067901 |
| A set of push-wire terminals | B91067902 |
| Enclosure accessories (terminal cover, 2 mounting clips)* | B91067903 |
| Transparent cover 144x72 (IP65) for FP200 ** | B98060005 |
* included in the scope of delivery
** If the "transparent front cover 144x72 (IP65)" is used, the cutout in the control cabinet must be increased in height from 66 mm to 68 mm (+ 0.7/-0 mm).
Variants of ISOMETER® iso685-…-B
Type
Nominal system voltage range Un
Supply voltage US
Display
Option W*)
Art. No.
iso685-D-B
AC 0…690 V; 1…460 Hz /
DC 0…1000 V
AC 24…240 V; 50…400 Hz /
DC 24…240 V
integrated
–
B91067020
iso685W-D-B*
AC 0…690 V; 1…460 Hz /
DC 0…1000 V
AC 24…240 V; 50…400 Hz /
DC 24…240 V
integrated
-40…+70°C,
3K5, 3M7
B91067020W
iso685-S-B + FP200
AC 0…690 V; 1…460 Hz /
DC 0…1000 V
AC 24…240 V; 50…400 Hz /
DC 24…240 V
detached
–
B91067220
iso685W-S-B + FP200*
AC 0…690 V; 1…460 Hz /
DC 0…1000 V
AC 24…240 V; 50…400 Hz /
DC 24…240 V
detached
-40…+70°C,
3K5, 3M7
B91067220W
Downloads for ISOMETER® iso685-…-B
| | Category | Product | Language | Date | Size | Download |
| --- | --- | --- | --- | --- | --- | --- |