Products
Insulation monitoring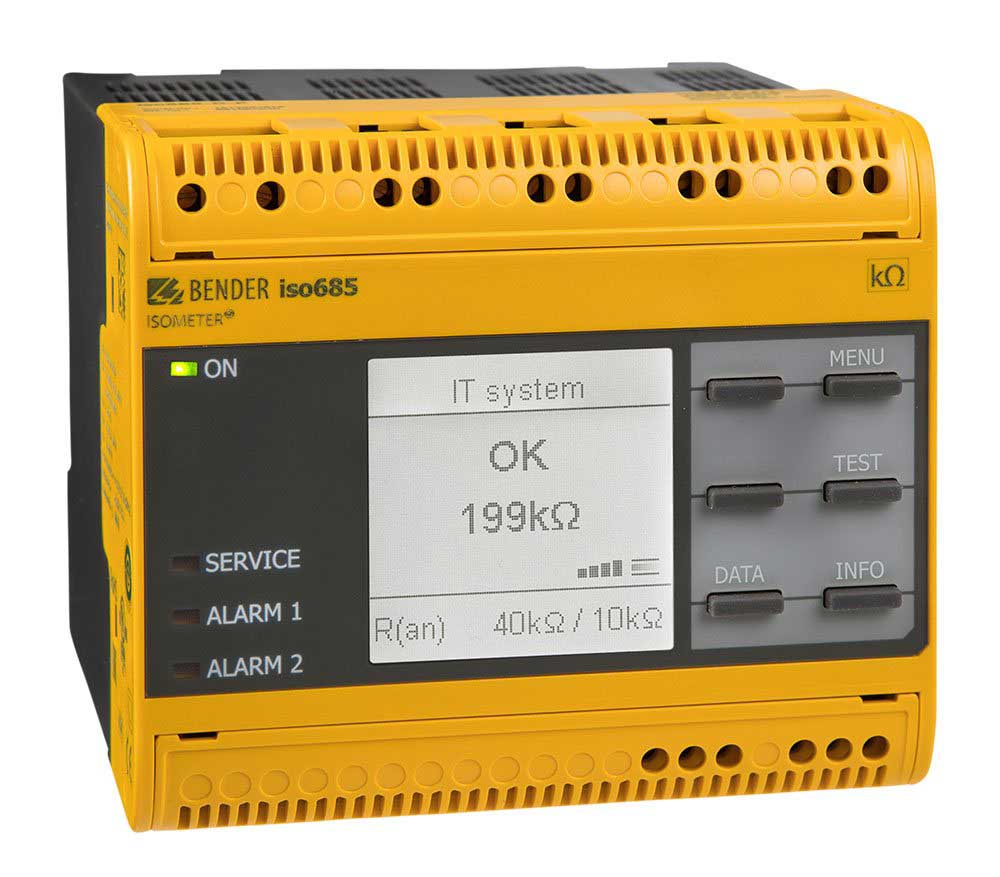 ISOMETER® isoRW685W-D-B
Railway
universally applicable
The ISOMETER® isoRW685W-D-B is an insulation monitoring device for IT systems in accordance with IEC 61557-8 for railway applications and has been specifically tested according to DIN EN 50155. It is universally applicable in AC, 3(N)AC, AC/DC and DC systems. AC systems may include extensive DC-supplied loads (such as rectifiers, converters, variable-speed drives).
Features
Applications
Accessories
Ordering information
Downloads
ISOMETER® for AC IT systems with galvanically connected rectifiers or converters and for DC IT systems (IT = unearthed systems)
Automatic adaptation to the existing system leakage capacitance
Combination of AMPPlus and other profiledependent measurement methods
Two separately adjustable response value ranges of 1 kΩ…10 MΩ
High-resolution graphic LC display
Connection monitoring (monitoring of the measuring lines)
Automatic device self test
Graphical representation of the insulation resistance over time (isoGraph)
History memory with real-time clock (buffer for 13 days) for storing a maximum of 1023 alarm messages with date and time
Current or voltage output 0(4)…20 mA, 0…400 μA, 0…10 V, 2…10 V (galvanically separated) which is analogous to the measured insulation value of the system
Freely programmable digital inputs and outputs
Remote setting via the Internet or Intranet (web server/option: COMTRAXX® gateway)
Remote diagnosis via the Internet (only by Bender service)
isoData: Continuous uninterrupted data transmission
RS-485/BS (Bender sensor bus) for data exchange with other Bender devices via Modbus RTU protocol
BCOM, Modbus TCP und web server
ISOnet: Internal separation of the ISOMETER® from the IT system to be monitored (e.g. if several IT systems are interconnected)
ISOnet priority: Permanent priority of a device within the network
ISOloop: Special function for ring systems (all systems are coupled)
AC, DC or AC/DC main circuits
AC/DC main circuits with directly connected DC components, such as rectifiers, converters, variable-speed drives
UPS systems, battery systems
Heaters with phase control
Systems with switch-mode power supplies
IT systems with high leakage capacitances
Mandatory accessories for ISOMETER® isoRW685W-D-B
| | |
| --- | --- |
| A set of screw terminals* | B91067901 |
| A set of push-wire terminals | B91067902 |
| Enclosure accessories (terminal cover, 2 mounting clips)* | B91067903 |
* included in the scope of delivery
Optional accessories for ISOMETER® isoRW685W-D-B
Type designation
Type
Art. No.
Coupling devices
AGH150W-4
AGH204S-4
AGH520S
AGH676S-4
B98018006
B914013
B913033
B913055
Suitable measuring instruments on request!
Variants of ISOMETER® isoRW685W-D-B
Type
Nominal system voltage range Un
Supply voltage US
Art. No.
isoRW685W-D-B
AC 0…690 V; 0,1…460 Hz
DC 0…1000 V
AC 24…240 V; 50…400 Hz /
DC 24…240 V
B91067022W
Downloads for ISOMETER® isoRW685W-D-B
| | Category | Product | Language | Size | Download |
| --- | --- | --- | --- | --- | --- |