Products
Residual current monitoring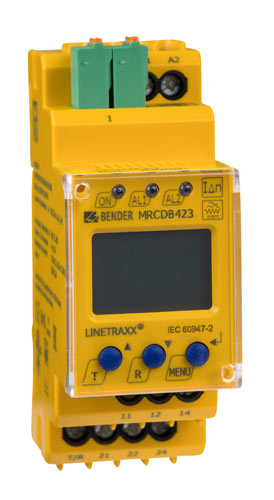 LINETRAXX® MRCDB423
Modular residual current device type B for additional protection (protection against indirect contact) in earthed systems (TN and TT systems)
The AC/DC sensitive MRCDB423 with the corresponding CTUB101-CTBC… measuring current transformers are used as additional protection (protection against indirect contact) in earthed systems (TN and TT systems) in which AC or DC fault currents may occur. Part of these systems are particularly loads containing six-pulse rectifiers or one-way rectifiers with smoothing, such as converters, battery chargers, construction site equipment with frequency-controlled drives.
Since the values are measured with measuring current transformers, the MRCDB423 is almost independent of the nominal voltage and the operating current of the monitored system.
The residual operating current IΔn2, the response delay ton2 as well as the currently measured residual current IΔ are shown on the standard display.
By using an MRCDB423 with a suitable current transformer and a switching element with isolating properties, the device combination fulfils the requirements of IEC 60947-2 Annex M for an MRCD protective device.
The application is specifically intended for protection goals such as protection of persons, fire protection and plant protection. The switching element must not exceed a switch-off time of 17 ms.
Features
Applications
Accessories
Ordering information
Downloads
AC/DC sensitive MRCD type B in accordance with IEC 60947-2 Annex M
Use as modular residual current protective device for additional protection in earthed systems
Operating characteristic type B in accordance with IEC 60755
RMS value measurement of the residual current
Alarm and prewarning indication via LEDs
Alarm and prewarning output via relays (K1/K2)
Control of a switching element with isolating properties via relay K2
Measuring current transformer connection monitoring
Fault memory
additional protection (protection against indirect contact) in earthed systems (TN and TT systems)
Optional accessories for LINETRAXX® MRCDB423
External measuring current transformers
| | | | |
| --- | --- | --- | --- |
| CTUB101-CTBC20 | ø 20 | – | B78120010 |
| CTUB101-CTBC20P | ø 20 | ✓ | B78120020 |
| CTUB101-CTBC35 | ø 35 | – | B78120012 |
| CTUB101-CTBC35P | ø 35 | ✓ | B78120022 |
| CTUB101-CTBC60 | ø 60 | – | B78120014 |
| CTUB101-CTBC60P | ø 60 | ✓ | B78120024 |
| CTUB101-CTBC120 | ø 120 | – | B78120016 |
| CTUB101-CTBC120P | ø 120 | ✓ | B78120026 |
| CTUB101-CTBC210 | ø 210 | – | B78120018 |
| CTUB101-CTBC210P | ø 210 | ✓ | B78120028 |
Connection cable measuring current transformer – MRCDB423
| | | |
| --- | --- | --- |
| CTX-100 | 1 | B98110080 |
| CTX-250 | 2,5 | B98110081 |
| CTX-500 | 5 | B98110082 |
| CTX-1000 | 10 | B98110083 |
Accessories
| | |
| --- | --- |
| Mounting clip for XM420 enclosure | B98060008 |
Variants of LINETRAXX® MRCDB423
| | | | | |
| --- | --- | --- | --- | --- |
| MRCDB423-D-1 | 30 mA…3 A | 0…2000 Hz | DC 9,6…94 V / AC 42…460 Hz, 16…72 V | B94043055 |
| MRCDB423-D-2 | 30 mA…3 A | 0…2000 Hz | DC 70…300 V / AC 42…460 Hz, 70…300 V | B94043056 |
* Absolute values of the voltage range
Downloads for LINETRAXX® MRCDB423
| | Category | Product | Language | Size | Download |
| --- | --- | --- | --- | --- | --- |