Products
Residual current monitoring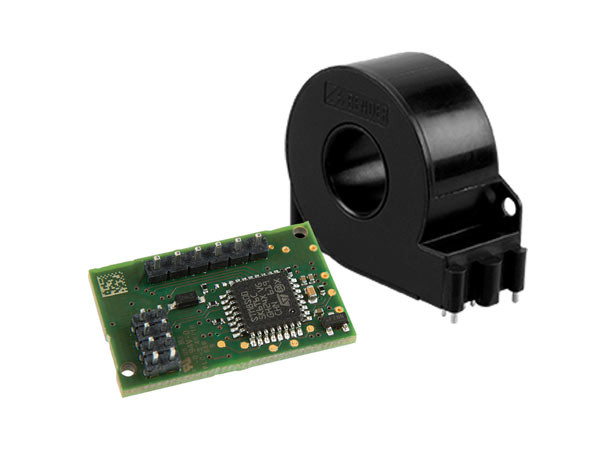 RDC104-4
The residual current monitoring module RDC104-4, with patented measurement method, is used in combination with a measuring current transformer CTBC17 and a type A RCD which has to be provided in the installation for DC fault current monitoring of AC charging systems for electric vehicles in which AC or DC fault currents can occur. The rated voltage Un is 250 V and the rated current (charging current) In = 1 x 48 A/3 x 32 A. The RDC104-4 is suitable for integration into a charging unit Mode 3 (AC) as a RDC-M module according to IEC 62955.
The RDC104-4 is only intended for purchase by the manufacturer of the charging system and not for end users!
More information:
Features
Ordering information
Downloads
Three outputs (DC1, DC2, Error)
Patented measurement method (Patents: EP 2 571 128 / US 9,397,494 / ZL 201210157968.6 / CN 103001175, EP 2 813 856)
Measuring range DC ±300 mA
Residual current resolution 0.2 mA
Load current up to 48 A r.m.s. (single-phase) or 3 x 32 A r.m.s. (three-phase)
Fault output (integrated self monitoring and test functions)
High insensitivity to external interferences
Wide range of use even in severe environments (e.g. in the event of external magnetic fields)
As a RDC-M module in applications according to DIN EN 61851 or IEC 62955, the RCD104-4 can replace a type B RCD when combined with a type A RCD and a suitable switching device (e.g. a power relay).
Variants of RDC104-4
| | | |
| --- | --- | --- |
| RDC104-4 | RDC-M module acc. to IEC 62955 | B94042483 |
| CTBC17 | Measuring current transformer Ø = 17 mm | B98080070 |
| CTBC17-Cable180MM | Connection cable 180 ± 30 mm | B98080540 |
| CTBC17-Cable325MM | Connection cable 325 ± 25 mm | B98080541 |
| CTBC17-Cable1470MM | Connection cable 1470 ± 30 mm | B98080542 |
Downloads for RDC104-4
| | Category | Product | Language | Size | Download |
| --- | --- | --- | --- | --- | --- |