Products
Signal Power Protection Systems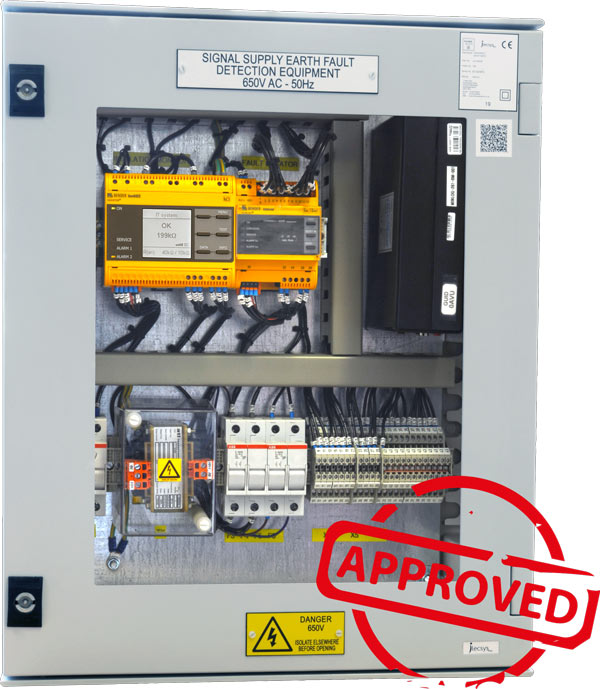 RS4 Tier 3
Tier 3 RS4 is the enhanced rail signalling protection system
Network Rail Certificate of Acceptance PA05/04750
For compliance with NR/L2/SIGELP/27725 Tier 3
Improved fault location from 20KΩ to 100KΩ
Cost effective and easy to upgrade to legacy equipment
Housed in Class II GRP enclosure for lighter and compact design
RS4 Tier 3 is an integrated insulation monitoring and earth fault location system. Utilising proven Bender technology seen in previous variants (RS3), this Tier 3 compliant RS4 is designed to comply with Network Rail standard NR/L2/SIGELP/27725. This innovative, cutting edge technology is available as a new or retrofit solution, to deliver monitoring and protection for railway electrical systems on the UK's rail infrastructure.
RS4 Tier 3 enables monitoring and fault location with improved accuracy and advanced sensitivity capabilities. The increased sensitivity strengthens fault location from the 20kΩ pre-warning level to 100kΩ.
The Network Rail certified Tier 3 system provides overall IR measurements, as well as feeder level fault location. Housed within a Class II GRP enclosure, Tier 3 is lighter and more compact in comparison to the previous RS3 version.
Simple to retrofit and update existing RS3 units, RS4 Tier 3 offers a cost-effective upgrade to legacy equipment that is compatible with existing Intelligent Infrastructure remote condition monitoring through data loggers.
Features
Applications
Ordering information
Downloads
Insulation Monitoring and Fault Location Systems used on Signal Power Systems
Identifies decline in insulation resistance (IR) values
Incorporates GSM-enabled data logger equipped for real time direct communication with the Intelligent Infrastructure
Immediately identifies earth leakage faults in the power system arising from damaged cables, faulty connections, breaks in insulation, and rodent damage.
Portable earth fault location system pinpoints location for maintenance teams
Delivers enhanced reliability and simplified installation and commissioning.
Facilitates planned maintenance interventions
Dual adjustable insulation alarms – pre-warning and alarm.
Standardised for use across Network Rail installations
Supplied in self-contained cabinet, tested and ready for 'plug and play' installation and commissioning alongside existing power infrastructure systems up to AC650V.
Integral automatic and manual test facility
Lockable front hinged door with viewing window
Rail signalling, relay rooms and trackside locations
For use with trackside power distribution systems up to 650V AC, Signal Power monitoring, Points System monitoring and Level Crossing Systems monitoring.
Variants of RS4 Tier 3
| | |
| --- | --- |
| Part Number – RS4 Tier 3 | |
| Network Rail PADs number is 0086/001406 | |
Downloads for RS4 Tier 3
| | Category | Product | Language | Size | Download |
| --- | --- | --- | --- | --- | --- |