Products
Medical IT Power, UPS and changeover systems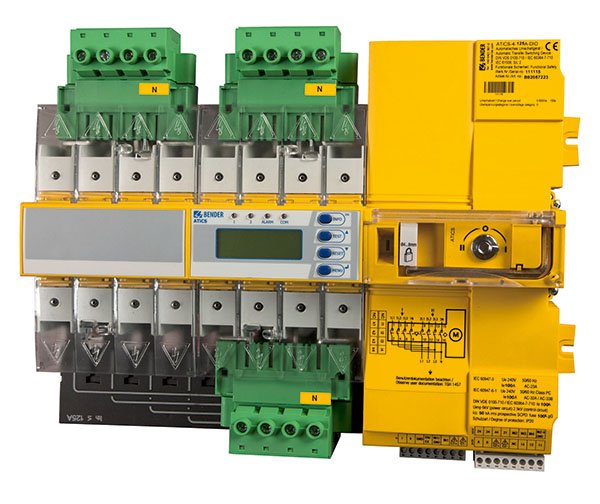 ATICS®-…-DIO
The ATICS®-…-DIO series automatic switching devices include all functions for changeover between two independent supply lines. The power section and the electronic section integrated in one flat, compact enclosure allow space-saving installation into the respective distribution board, simplifies wiring and reduces error potential. ATICS® has been developed consistently according to the Functional Safety standards (SIL 2) guarantee highest reliability.
Connectors at all connecting wires – in combination with the optional bypass switch – allow ATICS® to be tested or replaced during service works without interruption of the power supply. ATICS® considerably enhances the safety level particularly in industry, hospitals and sensitive areas.
Features
Applications
Ordering information
Downloads
Perfectly suitable for space-saving installation/retrofitting
Compact device for designing safety power supplies with functional safety more easily, in accordance with DIN VDE 61508 (SIL 2), in computing centres, industry, or in group 2 medical locations in accordance with DIN VDE 0100-710 (VDE 0100-710)/IEC 60364-7-710
All-in-one: Integration of switch disconnector and control electronics
Compact design
Solutions for any application
Convenient installation and commissioning
Saves time and money
Safe operation
Switch disconnector contacts of robust design
Mechanical locking
Manual operation directly on the device
Functional safety SIL 2
Certification by TÜV SÜD
Uninterrupted maintenance
Plug connectors and optional bypass switch
Excellent communication and parameterisation options
Where sensitive electrical installations are involved, e.g. in medical locations of Group 2, industry or computing centre, safe and reliable power supply must be ensured, also in the event of malfunctions. Redundant supply lines significantly contribute to achieve safe and secure power supply.
Variants of ATICS®-…-DIO
| | | | | |
| --- | --- | --- | --- | --- |
| ATICS-2-63A-DIO | 2-pole | AC 63 A | 1 x STW3, bridge, connectors, terminal cover | B92057212 |
| ATICS-2-80A-DIO | 2-pole | AC 80 A | 1 x STW3, bridge, connectors, terminal cover | B92057213 |
| ATICS-4-80A-DIO | 4-pole | AC 80 A | 4 x STW3, bridge, connectors, terminal cover | B92057222 |
| ATICS-4-125A-DIO | 4-pole | AC 125 A | 4 x STW4, bridge, connectors, terminal cover | B92057223 |
| ATICS-4-160A-DIO | 4-pole | AC 160 A | 4 x STW4, bridge, terminal cover | B92057224 |
| ATICS-BP-3-63A-SET | 2-pole | AC 63 A | Bypass switch set, Bridge, terminal cover, auxiliary contacts, LEDs green/red | B92057252 |
| ATICS-BP-3-80A-SET | 2-pole | AC 80 A | Bypass switch set, Bridge, terminal cover, auxiliary contacts, LEDs green/red | B92057253 |
| ATICS-BP-4-80A-SET | 4-pole | AC 80 A | Bypass switch set, Bridge, terminal cover, auxiliary contacts, LEDs green/red | B92057260 |
| ATICS-BP-4-125A-SET | 4-pole | AC 125 A | Bypass switch set, Bridge, terminal cover, auxiliary contacts, LEDs green/red | B92057262 |
Downloads for ATICS®-…-DIO
| | Category | Product | Language | Size | Download |
| --- | --- | --- | --- | --- | --- |